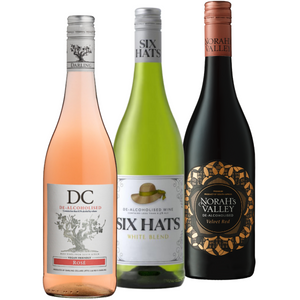 100 taste without the guilt
Beautiful wines, refreshing and lovely without the accompanying hangover. Brilliant!
Mixed Wine Taster
I bought the wine as a gift for my husband as he does not drink any alcohol. He usually drinks Castle Free but this is a very nice alternative for him to enjoy when I have a glass of wine (with alcohol). His favorite was the Bonnievale Neat Sauvignon Blanc but he enjoyed the Darling Cellars Rosé and Norahs Valley Velvet Red too. Of course I took a sip of each too and I was impressed. This will be a very god option for summer afternoons in/next to the pool as sun and alcohol does not mix well!
Great alternative to the "rea1" thing
Very impressed with all three wines in this taster case. I particularly enjoyed the red and will definitely be ordering more. I love my wine but not always the unpleasant aftereffects it can have, these wines really filled the gap so that I would not feel deprived of having my wine in the evening. Very impressed as well with the level of service received, the quick delivery and overall experience.
Good speed in delivery
I was impressed by the speed at which the goods were delivered to me in good order; I will definitely order some more very soon.
Very impressed
Loved the red and the white, I've just ordered more, I was so impressed by the taste